The Association of Progressive Writers, the Janwadi Writers Association and Jan Sanskriti Manch jointly organized a program on the occasion of the entry of the eminent poet Alok Dhanwa in the year 75. A large number of people from different fields of society such as poets, storytellers, writers, theater workers, social workers were present in the program. In the program, there was a long round of talks and memoirs related to Alok Dhanwa.
On behalf of civil society, police officer Sushil Kumar welcomed the incoming guests. First, the Bengali poet and editor of 'Bihar Herald' Bidyutpal, sharing his memories with Alok Dhanwa, said that "Alok ji had met him when he returned from the Punjab. His begging was flat on the hill. Alok ji's "I was the first reader of the three main poems, Fugitive Girls, Cloth Shoes and Stars. Alok ji and Dipan Mitra used to go out for a walk and talk about poetry."
Rabindra Nath Rai, general secretary of the Bihar Progressive Writers Association, said: "Alok Dhanwa's poem was published in Goli Daago Poster and Janta Ka Aadmi Ko Aara's 'Vam' magazine. from the same poem that made him aware of his idea. "
Literary writer Prem Kumar Mani said, "The 1970s were known as the decade of liberation. At that time, Alok Dhanwa had caught the attention of the whole Hindi world with his poems, it is an experience. "New generation literature in Hindi. There were successes. Meeting Alok ji, talking to him was a different experience. Talking to him used to be Muktibodh, Nirala and Pushkin. Even today the new generation is his attraction to of him ".
According to Jan Sanskriti Manch State President Jitendra Kumar, "I was introduced to the poems of Alok Dhanwa. Alok Dhanwa's relationship with the land of Ara has been very strong. Ara's struggles have also found a place in a collection of poetry "The world becomes" every day ". Poems like Alok Dhanva are not written today. Today there is a tone of despair in contemporary poetry. If this tone of despair is removed, it will be very great.
Tarun Kumar, head of the Hindi department at Patna University, said: "Those who have come to this event today have come themselves. This brilliance has never been seen in the recent past. When Angry Young Man arose in Hindi cinema at the same time.Alok Dhanwa enters Hindi poetry.I met Alok Dhanwa in 1977 when he was secretary of culture at the Mintoo Hostel at Patna College and met Alok Dhanwa for poetry readings The new poetry that emerged in the 1970s, Alok Dhanwa became his brilliant comet .. After Rajkamal Chaudhary, Bihar's name has been the most enlightened, where the game of fire and fire is played. water, Alok Dhanva has reconciled opposites.Without a deep compassion, one cannot write a poem like Alok Dhanva.Hindi poetry cannot be seen as a rejection.Alok Dhanwa is a poet of different expressions and times.Both men and women Alok Dhanwa's poetry is the opening poem most disgusting secret in history.
Politician Shivanand Tiwari, sharing his memoirs with Alok Dhanwa, said: "I met Alok ji in Banaras. I met several times in his flat on Bhikhna hill. In 1970-71 I went to Munger. Alok Dhanwa introduced Jabir Hussain. Then I was in Samajwadi. Yuvjan Sabha ".
Veteran poet Ram Tiwari said, "Alok Dhanwa's poetic life began with Aara. His journey began with Aara."
Story writer Santosh Dixit said, "Alok Dhanva is the legend of Hindi poetry. When we go out in a city, people wonder how Alok Dhanva is? People ask to take care of him. We have learned a lot from the The most important of the poems is that there are no difficult words.There are poets of emotion.The poet's poetry does not drag you into another world. poetry like that. But my story, of the novel. His memories serve him as a heritage. "
Jasam's Sudhir Suman said, "Alok ji has made a place in our subconscious. There are good memories of meeting him. There is so much intimacy with Alok ji that we express our disagreement with him. His poems are immersed in him. ".
Nutan Anand, who came from Purnia, said: "Alok Dhanwa ji was familiar with the compositions, Goli Dagaon Poster, Janta Ka Aadmi Poems, but this time Prales had a chance to be near him at Jallianwala Bagh in Amritsar. His cell phone was lost. I saw it. There was more concern for others than for ourselves. When we look at the decade today, the 1970s were more revolutionary than they are today. "
Famous poet Sanjay Kumar Kundan said, "The soul of Alok Dhanva is always young. Those who are inside are outside. Becoming the simplest personality like Alok Dhanva is the hardest task."
Ramesh Ritambhar, who came from Muzaffarpur, said: "All the great men of the world are innocent. Within Alok Dhanwa there is an innocent and deceptive man. He removes all intellectualism and the gap of generations. He is the poet of the generations. " Five-seven. generations who grew up in the city of Patna have stood before them. These poets and activists are rare. They have put up posters. Alok Dhanva is a full time poet who gave his whole life to create a beautiful society. Aside from poetry, another work by Alok Dhanwa has not. "
CPI (M) leader Arun Mishra said: "Alok Dhanwa is still creative in the times to come. As is the creative era, we will hear more poems like the man of the village. After Baba Nagarjuna, we have been to Alok Dhanwa. The poems were fascinating. His reading style also fascinates us. Inside them is a little boy who is always jumping and jumping. "
Cultural worker Anil Anshuman said: "Alok Dhanva has given speeches in the streets and recited poetry. In the campaign that took place in the Premchand Rangshala liberation movement, Alok Dhanwa is not only a poet of words but also of streets.Like Bahadur Shah.Zafar was the symbol of 1857. Alok Dhanva is the poet of today's difficult times.
Vinod Kumar Veenu said, "All the photos I have taken of Alok ji are women. There is an irreverence in his personality. There are beautiful memories."
According to narrator Ratneshwar, "Alok Dhanva reads poetry like a yogi. If you see him in all the pictures of him, he deserves to be a hero. When he reads poetry. I can hear the rhythms of the five elements."
Sunita Gupta said in her speech, "When I came to the unknown land of Patna, I first met Alok Dhanwa. I met him with his fluid affinity. We are the poets who approach those women who have been struggling. "Those that are useful in every crisis."
Poet Satyendra Kumar of Gaya, leader of CPI-ML KD Yadav, Samta Rai, Vinod Kumar Vinoo, Soumya Suman, Situ Tiwari, Soumya Suman, Ghamdi Ram, former editor of Rashtriya Sahara Chandan Kumar, Nilanshu Ranjan, of the ceremony Young artist of Jayaprakash theater did the operation while the vote of thanks was made by Rajesh Kamal.
On this occasion, Alok Dhanwa recalled his old memories in many cities, such as JNU, Calcutta, and said, "This is the country of Gandhi and Nehru, the country of Maulana Azad and in this situation, if anyone writes poetry , it 's good for your country. " We need to know the history, the history of our struggles in the world. "
Alok Dhanwa also recited his famous poem "Bhagi Hui Girls" along with Faiz poetry Ahmed Faiz. Social activist Nivedita Jha chaired the function.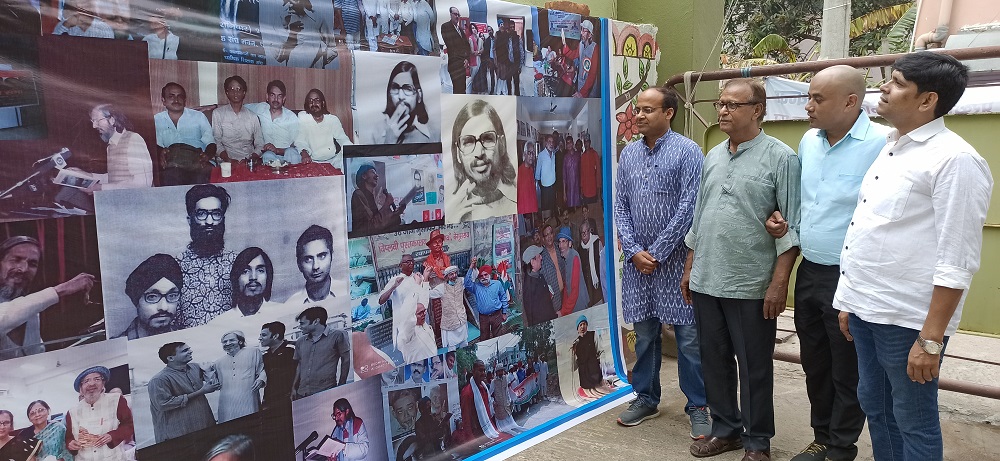 A collage of photographs by Alok Dhanwa from the last five decades was made on the premises with photographs of various writers, theater workers and social workers. This collage was a special attraction.
A large number of people were present on the occasion of the 75th anniversary of Alok Dhanwa. At this event, Gajendrakant Sharma, Vineet Rai and prominent people like Shrikant, Kumar Mukul, Ghalib Khan, Jaya, Nitin Chainpuri, Osama Khan, Runjhun, Sridhar Karunanidhi, Mukesh Pratyush, Sameer Parimal, Arun Narayan, Yogesh Pratap Shek Gulal, BN Vishwakarma, Devanand, Chhaya, Kumar Varun, Kumar Rajat, Abhishek, Ramesh Singh, Sumant Sharan, Anish Ankur, Soni Kumar, Manjul Kumar Das, Munna Singh, Vibha Rani Srivastava, Sunil Singh, Ajay Singh Kumar, Arun, Hi Gopal Sharma, Kulbhushan Gopal, Archana, Nawab Alam, Ashutosh Kumar Pandey, Krishna Samriddhi, Anchit, Rajan, etc. were present.