Ayodhya:
The Department of Labor is operating more than half a dozen important benefit schemes for construction workers, but its benefits only reach construction workers registered with the department. Thousands of unregistered construction workers in the Ayodhya division are still deprived of the benefits of these schemes. The main reason for this is the limited number of staff deployed to carry out these schemes.
In Ayodhya Barabanki, Sultanpur, Amethi and Ambedkar Nagar districts, about 30 employees assigned to the Department of Labor are responsible for these beneficial plans on the shoulders of workers.

In this regard, an average of three labor agents and three computer operators deployed in each district are operating these programs and preparing their accounts. Faced with this situation, the Department of Labor, now in coordination with the team of other government departments related to workers, is beginning to work on the plan to bring the beneficial programs to more and more workers.
According to Anurag Mishra, Deputy Labor Commissioner of Ayodhya Division, despite the limited staff, the plans are being extended to most of the registered workers. Now, by contacting Panchayat District, Department of Education, Health Blog, Agriculture and Basic Education, emphasis is being placed on the awareness program for registration of construction workers. So that workers who are still deprived of the benefits schemes of the Department of Labor for non-registration can also benefit.
He said the Department of Labor's benefit plans only work for registered workers working in the construction unit. According to the Deputy Labor Commissioner, the department's biggest hit was the largest mass marriage organized for daughters of workers in Ayodhya last year. . In which a record has been set by conducting mass marriages of 3829 couples.
Know the progress of beneficial schemes

Shishu girl's maternity aid plan
Under this scheme, assistance of 6,000 rupees is granted to registered workers in the event of the birth of a child. While pregnant workers receive a minimum wage of three months along with a bonus of one thousand rupees as an aid. Which is reaching about 29 thousand rupees at the current rate. In 2021-22, 2507 workers in the Ayodhya division have received a grant of 3 million 49 lakhs. If a worker has two daughters, she is offered additional assistance of Rs 25,000 for the daughter and Rs 25,000 as special assistance.
scholarship scheme for marriage of girls
With this scheme, after 100 days of registration of the construction worker, 55 thousand are being given to two daughters. While during mass marriage, this amount of attendance becomes 75 thousand rupees. $ 38 million was distributed among 3317 workers in the Ayodhya division during the period 2021-22, of which a maximum of 7,000 were the beneficiaries of Ayodhya.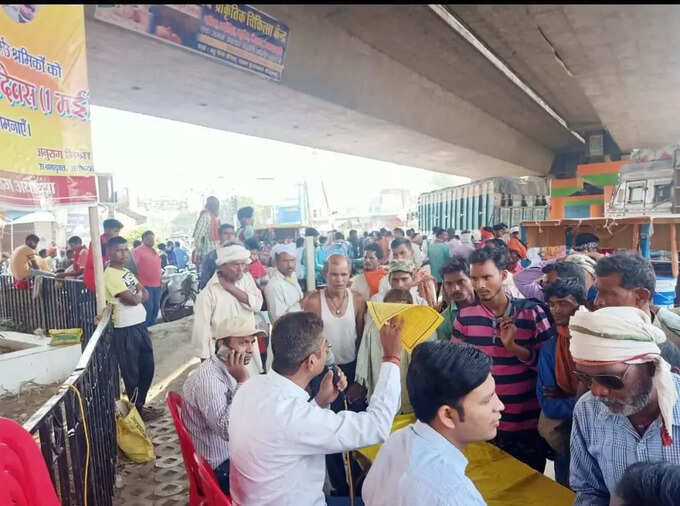 San Ravidas Educational Aid Plan
This plan is offered to two children of college workers for studies from class 1 to doctorate, technical and medical education. In which a monthly scholarship provision of 150 to 12 thousand rupees has been made. In this plan, a grant of 1 crore 28 lakh has been distributed among 3035 beneficiaries. 1542 obtained the maximum benefit in Sultanpur. An amount of Rs has been distributed. 1 crore 27 lakh in this scheme on the mandal.
The schemes are only for construction workers. In which 40 categories of workers engaged in construction have been included. The number of worker registrations is now being increased through coordination with other government departments and through an awareness program.
Anurag Mishra, Deputy Commissioner of Labor, Ayodhya Division.
Reward plan for blessed children of workers
In this scheme, prizes ranging from 4,000 to 12,000 rupees at different levels have been distributed considering as commendable the children of the workers who get 55%. 7 lakh 82 thousand rupees have been distributed among the deserving children of the Ayodhya division.
Death and disability assistance plan
Assistance of 2 lakhs is being given to relatives of registered construction workers after their normal death. While working, Rs 5 lakh assistance is being given in case of death. With this plan, a grant of 2 million rupees 49 lakh has been given to 124 victims in the Ayodhya division. In this, Sultanpur has benefited from a maximum of 51 characters.
Many construction workers have not yet registered in Ayodhya Mandal. Instructions have been given to the Department of Labor for registration. So that no worker should be deprived of the benefits of government plans.
Navdeep Rinwa, Commissioner Ayodhya Mandal

Beneficiary construction workers in Ayodhya Mandal
2 lakh 6 thousand workers – registered in five districts of the division of Ayodhya.
63719- The workers are maximum in Barabanki.
7 thousand – workers earned benefits in the subsidy for daughter marriage
3035 – Labor children benefited in the educational plan of San Ravidas.
124 – The relatives of deceased workers, beneficiaries of the assistance scheme for the deceased and the disabled.
2507-Women workers and women workers benefit from the maternity assistance scheme.
Informe-VN Das