Vineet Patil from Bombay has slightly different memories of his school. Vineet was recognized at school for her tiffin box and all the credit goes to her mother, Geeta Patil, who runs a Maharashtrian food business. Vineet says her tiffin box was one of those things that used to get the attention of her friends and all the kids in the class.
Recalling school times, Vineet says that at school, children used to carry roti and vegetables in tiffin boxes. But his mother always used to pack some new items in the box and took special care that all kinds of vegetables were included in the food.
Sometimes vegetables were filled inside the paratha, and sometimes vegetables were added to the dough and kneaded. The only difference was that the size of the paratha was different. Vineet's eyes used to shape the paratha like a samosa. Vineet says he used to finish whole vegetables very easily and chatter. Often, as soon as Vineet opened the box, his friends would break up with the food.
Vineet's mother, Geeta, inherited her passion for making delicious food from her mother, Kamalabai Nivugale. Kamalabai used to run his own small tiffin business, where he used to pack food for about 20 people. Geeta says she often helped her mother prepare and pack food.
The lessons learned from the mother became the basis of the Maharashtrian food business
Speaking to The Better India, he says, "I remember I often sat on a stool near the stove and mixed all the ingredients. I was Ai's little helper and I also had a lot of fun with this job."
For Geeta, the things she learned at the time turned out to be an important foundation for starting her own business later. In 2016, he started a small business from his home where he made and sells traditional Maharashtrian snacks and sweets, such as Modak, Puranpoli, Chakli, Poha and Chivda. It took very little investment to get it started.
People liked the taste of Geeta's hands and little by little the number of her customers increased every month. Today this company serves more than 3,000 customers and earns revenue of more than Rs 1 crore annually.
foods that helped manage the home
Geeta was born and raised in Bombay. Later the marriage also took place in this city, so he knew the place well. Geeta explains, "There was only one change for me in Bombay and it was moving me from Vile Parle to Santacruz. My father worked at the Brihanmumbai Municipal Corporation (BMC) and my mother was a home cook."
Geeta says she was inspired to feed her mother's people. She says: "My mother worked in the kitchen very easily and easily and prepared a lot of thali in the early hours of the morning. I loved seeing them. "
Soon Geeta was recognized by her friends and known for her culinary skills. He explains that people of different religions live in his area. His Muslim and Catholic friends often placed orders for Maharashtrian food, such as chakli or puranpoli. Geeta made them these dishes at no charge.
This continued for a while. But in 2016, Geeta's husband, Govind, lost his job as a dental lab clerk. Geeta says the house had to be managed, the children had to be educated, but there was no work. This incident led him to think first about using his talents to run the home and support the family.
when the first order was received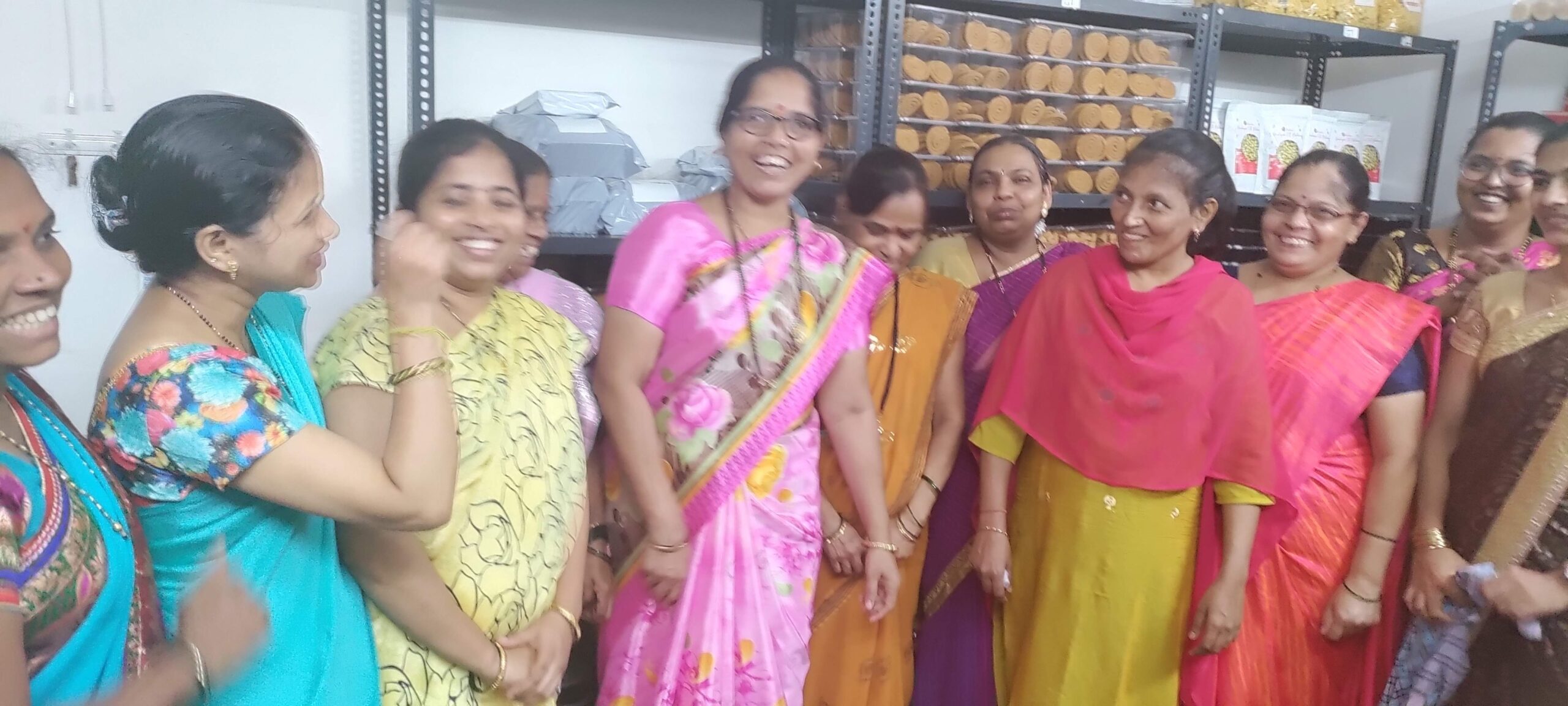 Geeta says, "Darshan and Vineet were in school and their expenses were increasing. I already had a customer base. I had full confidence in my culinary skills and, with the support of my husband, I started small from from the kitchen of my house.
Although Geeta often made these snacks for her relatives, she says, she was very nervous when she received the first order. Geeta says, "Until 2016, I used to do this job because of my passion for cooking. But now it had become a business and a means to manage our home. I could no longer take it lightly. The first order he came from a family that lived in Khar. The best part is that even today we receive orders from them regularly. "
From 2016 to 2020, Geeta's food business in Maharashtrian operated from the kitchen of the house, without any formal branding. He had a slow start, but Geeta was confident he would do well. In the early years of the business, he used to supply tea and snacks to BMC employees in the Prabhat colony. He says he wanted to work with the same energy his mother used to do. Geeta says, "Every morning before I started, I used to remember them."
Maharashtrian Food Business'Patil Kaki ' made of brand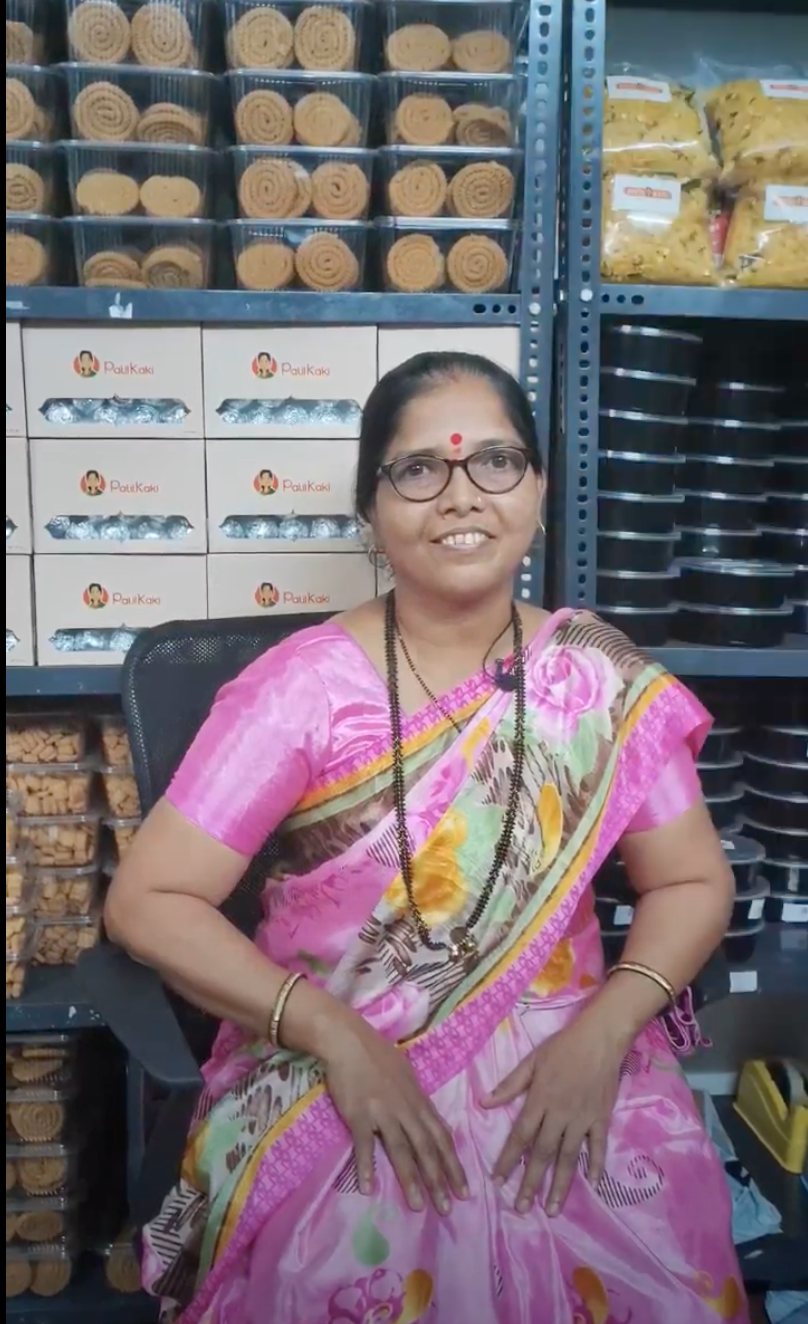 While Geeta isn't sure how much money she was making with the business between 2016 and 2020, she says she used to have enough money to manage the entire household. She says, "Maybe we spent the month maybe I earned a lakh, but I can't say for sure."
Vineet says he has seen his mother working hard. Understanding how branding and marketing work, I wanted to help him grow this business even further. He explains: "First we considered the name Patil Kaki and started taking advantage of social media, so that more and more people knew about the business."
Vineet worked to increase the annual revenue from Rs 12,000 lakh to Rs 1.4 million. He says: "We have taken 1,200 square feet of space in Santa Cruz from where we operate. We also have 25 more women working with us in the workshop. 'Patil Kaki' under the leadership of Aai and Dhanashree Kaki is doing a great job now. What is really satisfying is that we can employ so many women to work with us. About 70 percent of our workforce are women working for the first time. "
Geeta says this has also helped many women whose husbands lost their jobs during the pandemic.
It will soon start in other cities as well.
Anuradha Johri has long been ordering Maharashtrian food products from Patil Khaki. She says: "It's fantastic in both taste and quality. The best thing about Patil Kaki is its service. Its team is fantastic, it answers all your questions instantly and problems are solved in minutes. on-time delivery is also something that makes them special. "
Modak, Puranpoli and Chakli are the best-selling dishes, while Besan ke Laddu and Chivda are also in constant demand. On average, around 10,000 puranpolis and more than 500 kg of chaklis are manufactured and shipped month to month to Mumbai and Pune.
Geeta says she didn't even imagine her business would get that far. She says, "The success of this business gives me immense pleasure at times. I would never know how to market myself on social media platforms. Vineet's hand is behind it all.
With more than 3,000 orders shipped each month, the brand plans to expand its service to other cities soon.
If you want to contact Patil Kaki and place an order, click here.
Original article: Vidya Raja
Editing: Archana Dubey
Read also: Bangalore: The food business started from home, 4,000 orders arrive every month