Hindus are a minority in Kashmir and are called pandits in the local language. Rahul Bhatt was five years old in 1989 when his family fled Budgam in Kashmir to a refugee camp in Jammu. At the time, the increase in terrorist incidents had forced thousands of Hindu families to emigrate from there.
As terrorist incidents escalated in the region, thousands of Kashmiri pandits, such as the Bhatt family, began to flee after killing prominent members of the community.
Pandit returned in 2011
They had to live in the dark tents of Jammu in an intense cold where they were afraid of being bitten by dangerous snakes. After nearly two decades in exile, Rahul Bhatt returned to Kashmir in 2011 when the Indian government announced a major package of jobs and homes to return migrant pandits.
Read also: Hundreds of Hindu families fled Kashmir
Rahul Bhatt began living in a camp built in Sheikhpura where 350 families lived with him. Sheikhpura was one of the six main camps established for returning Hindus, who were given strict security.
Under the rehabilitation plan, some 6,000 Kashmiri pandits were given work and, therefore, the confidence of Hindus to return home.
On May 12 this year, two gunmen arrived at Bhatt's office in Budgam district and shot and killed him.
Prabuman Tiku forced to live in the refugee camp in Jammu
life is more important than work
The Resistance Front is said to be behind the assassination, which is a branch of Lashkar-e-Taiba. The TRF continues to threaten to kill outsiders returning to Kashmir under the central government scheme and want to change the demographics here.
This organization has threatened to kill all non-Kashmiri people who come to settle in this area. TRF calls these people agents of Rashtriya Swayamsevak Sangh (RSS).
Kashmiri pandits began protests against Bhatt's assassination. Many of them were government employees and did not even go to their offices for fear of being attacked.
Vikas Hangloo told DW: "For us family and life are more important than work. We will not do service unless the government asks us to a safe place outside Kashmir."
Read also: Bitaji Butt cries after seeing her 4-year-old granddaughter
The people of Kashmir have long accused the Modi government of wanting to change the demographics here by installing Hindus in this Muslim-dominated area. These fears were further reinforced when the Modi government took decisions to end its limited autonomy in August 2019 and introduce new land laws in October 2020. Both decisions caused panic among the local population. .
Terrorist groups used the fear of this "demographic change" to attack religious minorities, pro-Indian Muslims and workers from other states. Rahul Bhatt is also one of 19 civilians who fell victim to terrorist bullets this year. Most of the people killed are Muslims.
HinduInBy,
These latest incidents of civilian killings created fear among Kashmiri pandits. Most Kashmiri pandits working under the special government regime that arrived in 2009 have left Kashmir for fear of terrorist attacks. Even these 800 Hindu families are now preparing to leave Kashmir, which in not even 1990 remained in Kashmir in a violent terrorist environment. However, due to the increase in terrorist incidents, they are now also forced to leave Kashmir.
There has been no elected government in Kashmir for the past four years. The government here is headed by the central government-appointed governor, Manoj Sinha. Sanjay Tikoo, president of the Pandit Sangharsh Samiti in Kashmir, says that is why there is a political vacuum, civil society is inactive and the common man cannot raise his voice.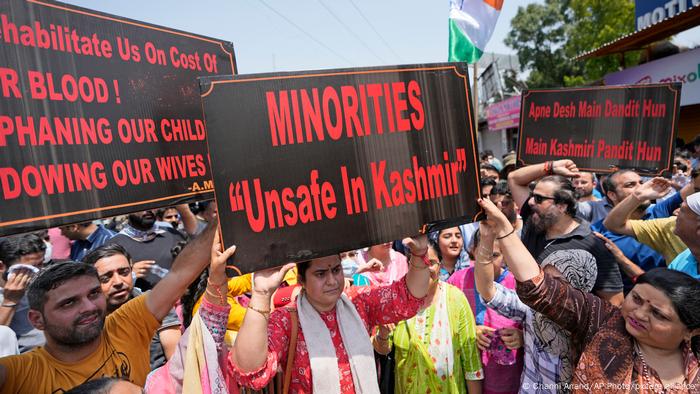 Pashtuns of Kashmir asking for security in Kashmir
The killing of civilians, especially of Hindu minorities, began in October last year when armed terrorists killed well-known Kashmiri chemist Makhan Lal Bindru in Srinagar. This was the first murder of a non-migrant cashmere since 2003.
Tiku has also not left home after this incident. He lives in the Barbarshah area of ​​Srinagar and the police told him that his life was threatened by terrorists, so he should not leave.
He has filed a public interest dispute in court accusing government officials of endangering the lives of Kashmir's religious minorities.
common man alone
He says: "The common man of Kashmir is very scared. Before, the people of the Muslim community used to be with us in our problems, but now they are also afraid that the government will arrest them. No one will help them." It is. "
Ashwini Sadhu, who fled Kashmir after the assassination of Rahul Bhatt, says: "We used to feel safe here, but now there is a very scary atmosphere in Kashmir like never before."
Sadhu says, "We don't know who to talk to in Kashmir. Before, in these situations, separatist leaders used to go to the village for Kashmiri pandits, but now there is no one to help."
Read also: The murder of the Kashmiri pandits continues
Police Inspector General Vijay Kumar says 118 terrorists have died so far this year, including 32 foreign fighters. Last year only 55 terrorists were killed in the same period. This gives an indication of how many terrorist incidents have increased during this year.
Akanksha Kaul is a Pandit teacher from Kashmir. She says, "Kashmir is not safe for anyone right now. Our family is also preparing to leave here."
Akanksha, 35, says the selective killing of civilians at the hands of strangers has created an atmosphere of unprecedented fear and insecurity among the people here. She says, "Before, I used to distinguish between civilians and terrorists. But now there is no face of terror. You never know who can kill you and who can protect you."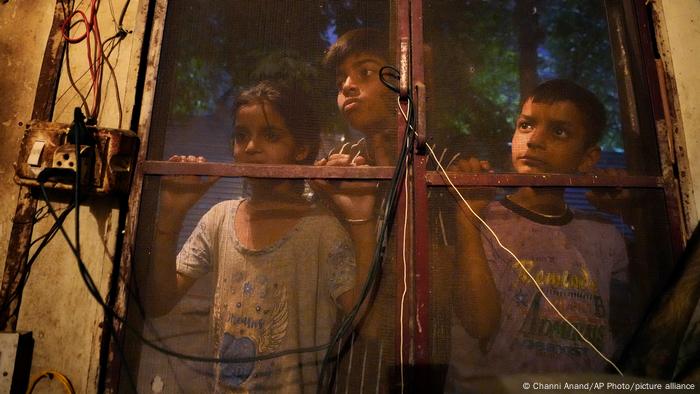 Children of the Kashmir pandits in the camp
1990 InPandit KashmirExcludingBecause?Here we goWentThey were,
During the militancy in Kashmir in 1990, about two lakh pandits from Kashmir had left the Valley. On August 21, 1989, a pro-Indian Muslim politician Muhammad Yusuf Halwai was assassinated by armed terrorists. This was the first murder by terrorists.
After that, on September 14, 1989, Tika Lal Taplu, a cashmere pandit and local leader of the BJP, was assassinated. On November 4, 1989, armed terrorists from the Jammu Kashmir Liberation Front (JKLF) killed a retired judge, Neelkant Ganju. JKLF is a local organization claiming the independence of Kashmir from India.
The assassination of such important Kashmiri pandits created fear among the Hindu minorities there. On January 19, 1990, the Kashmiri pandits began to emigrate from there and went to different parts of India at their convenience. Kashmir pandits celebrate this day as "Day of Expulsion or Day of Exodus."
In March 2010, the Jammu and Kashmir state government told the assembly that between 1989 and 2004, 219 Kashmir pandits were killed.
Rehabilitation efforts have been affected by the latest incidents of civilian killings in Kashmir.
Along with the terrorists, most Muslims here also say that the central government wants to change the nature of the Kashmir population by settling Hindus there.
Last month, Bhatt became the latest victim of terrorists who say outsiders will not be welcome in Kashmir.