Sri Lanka has been insolvent for the past six months. He has a huge debt of 51 billion, which he cannot pay up to installments. Because of this, it cannot import all those essential goods, including oil from abroad, so life in Sri Lanka has stopped. There is a shortage of all the essentials for life.
The problems that people face mainly in daily life have become one of the basic needs of today's life. The hardest part is that Sri Lanka tends to produce very few things, it has depended heavily on imports for its needs. With each passing day, the problems also increase. Because of this, a large crowd gathered in Colombo and entered Rashtrapati Bhavan. captured there. After that, the house of Prime Minister Ranilsinghe was set on fire.
1. No electricity, 14-15 hours cut
From oil to coal, electricity is needed, which in Sri Lanka is very little or almost depleted. Sri Lanka has no coal production of its own. It imports coal and oil needed for outside electricity. To do this, it needs to import about 2.5 million tons of coal, which is completely depleted due to lack of foreign exchange. Currently, the coal it is receiving comes from China and India.
Electricity is mainly produced in Sri Lanka in three ways, thermal energy (which requires coal and fuel oil), hydraulic energy (electricity is also generated through water in Sri Lanka but it is much less ) and the third method is unconventional. it is the energy of which there is currently a certain amount of electricity, although its number is also much smaller.
In Sri Lanka there have been severe power outages in recent months. This is for about 14-15 hours. There is a blackout situation in small towns, villages and remote areas. People are very angry about this (courtesy: daily mirror of Sri Lanka)
(courtesy – daily mirror of Sri Lanka)
Sri Lanka had previously announced bankruptcy that it would become a self-sufficient country in electricity by 2030, but that does not seem to be happening to him now.
what happens when there is no electricity
Sri Lankan cities still receive some electricity, but there is a situation of total blackout in villages, towns and remote areas. In today's life, most of the work is done with electricity. The effect of this was that from the hospital to the agents and schools, the works have been stopped. Work on the factories has stopped.
Due to power outages, it has become difficult to sleep during stifling nights.
Patients face problems in the hospital. operation is not possible
– Emergency services have been severely affected
2. There is no oil at all, traffic and essential works stop
Until now Sri Lanka had been important most of its oil requirement. Although it also has its own oil extraction in a very small amount, but all this has stopped. Gas pumps are deserted. Bus stop vehicles are seen all over the country.
Oil consumption in Sri Lanka is about 127,000 barrels per day, of which they can somehow get a quarter, but there is also a problem.
it affected everything
People are struggling to find a means of transportation as soon as they leave home.
If gas stops reaching homes, even those that can't be filled after emptying them, there are long lines for it. If the stove can't burn, people take refuge in the wood stoves.
Autorickshaw drivers with their eight-liter tanks are forced to spend several days in long queues. It can also take 48 hours to acquire the oil.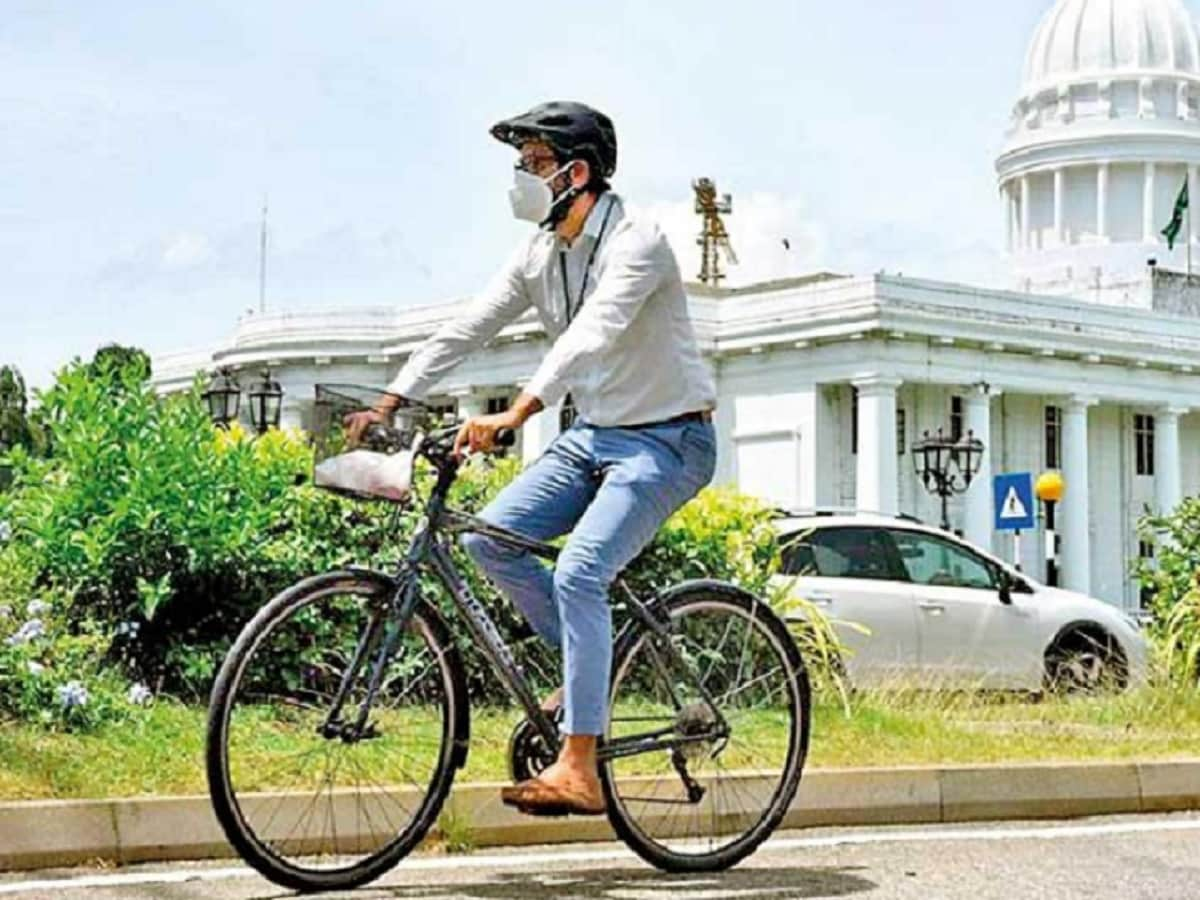 Lacking oil and getting more expensive, people's bicycles have come out in Sri Lanka or their demand has increased in the market, but their price has also increased a lot. (courtesy – daily mirror of Sri Lanka)
The main support of those who move anywhere, is the bus and the train, the number of which has been greatly reduced. The condition of these buses and trains is such that they should not sit anywhere in the crowd.
How will the oil situation improve?
The Sri Lanka Daily Mirror reported on July 12 that four large ships full of petrol and diesel will arrive in Sri Lanka later this month. After that, there may be some improvement in the situation of oil shortage in the country.
3. The scarcity of legumes also became a luxury in catering
It used to grow at least the grain of its need, but as the law was made to make organic farming in the country, then agriculture was also ruined. People have neither adequate breakfast nor food. People work in similar conditions.
In the working-class localities cooking has begun together, especially coconut and rice is used more.
Lentils, the main food in the diet, have become uncommon.
Due to the lack of diesel, fishermen cannot take the boat to the sea and that is why there is a shortage of fish, which they are catching, it is very expensive.
Hotel and restaurant food became very expensive
– Most children in Sri Lanka are forced to live almost without a protein diet
3. Inflation rose sharply
After reaching the poor state of Sri Lanka, the currency there is rapidly devaluing. As a result, inflation rises sharply. Everyday things are available at twice the price of the previous month. Inflation is constantly rising. Everything has become expensive.
In this situation some people are taking advantage. Black vendors and the mafia have turned to silver. Not only are they selling goods for theft, but there are also allegations of their complicity with the police and administration.
4. Drug hunger
There is a great shortage of medicines. In general, all medicines in the country are imported from abroad. Its production is much lower in the country. Medicines were usually imported more from India, but they also arrive less. There are long queues at medical stores and there is a lack of medicines.
5. Unemployment rose due to the destruction of the economy
Due to the deteriorating situation in the country, where the employment of day laborers has ended, the jobs of the employed are being lost. Because it has become difficult to pay their salary. Unemployment is rising sharply in all sectors.
– People in the weaker sections are trying to buy bicycles to go to work, but due to the devaluation of the currency, this has also been left out of their reach.
Be the first to read breaking news in Hindi News18 Hindi | Today's latest news, live news updates, read the most reliable hindi news website News18 Hindi |
Tags: bench, Sri Lanka, Sri Lanka
FIRST PUBLICATION: July 12, 2022, 12:26 IST