Earthenware pots have been used since ancient times to keep water fresh. Now a question is, when water can stay cold in an earthenware pot, can other things stay cold in it too? A similar question came to the mind of M Sivasamy, a potter from Karumathampatti in Coimbatore, Tamil Nadu, after which he mud refrigerator decided to do.
Sivasamy, 70, had only made earthenware pots in his lifetime. He decided to use his knowledge and experience to create a tool that would help people live in a sustainable way.
In 2020, he made an eco-friendly refrigerator with clay, which can keep vegetables fresh for up to four days without using electricity. He used a large cylindrical earthenware pot and added two features to it: a faucet in the front and an outlet for pouring water in the back.
In this refrigerator, inside a larger container, there is a smaller container where the vegetables can be stored and then covered with a lid.
Sivasamy explains the features of this fridge: "Put about 15 liters of water in the big pot and, as the water in the container is cold, it also keeps the vegetables and fruits fresh. If you store things properly, you will they keep it fresh for up to four days. You can also use it to store yoghurt, milk and eggs. "
This clay refrigerator comes in two sizes: one is 1.5 feet tall, while the other is 2 feet larger. Its price is 1,700 and 1,800 rupees. Sivasamy says he has sold more than 100 refrigerators so far.
Belonging to a family of potters, Shivasami has made a variety of clay products. There are many of these products in your home and in your warehouse. For 50 years, it has its own store, where it sells more than 150 kinds of clay products.
How long does it take to make this clay fridge?
Sivasamy says, "Before, in my father's time, we only did diyas and utensils. But we had to expand our work according to people's needs."
In describing the process of making a clay refrigerator, he says he gets clay from three places, which he has to mix in the right amount. Then make each part of the refrigerator, which is then dried in the shade. He says it takes a month to make ten refrigerators.
Sivasamy has given another reason to make this fridge. He says that when he was little, there was no refrigerator in his house. They got fresh food from the fields and this was also the secret of their health. He says at least some people can reduce their electricity consumption with this floor refrigerator.
people slowly go back to old things
In addition to making clay refrigerators, Sivasamy also manufactures and sells clay pots, pans, glasses, bottles, jugs and kitchen utensils. Revathi Venkat has been buying products made by Sivasamy for many years. "We're moving towards a more sustainable lifestyle," he says.
"We have a farmhouse on the outskirts of Coimbatore, which we visit on weekends and holidays. We bought a clay fridge for that house and it turned out to be a big change. We didn't buy an electric fridge over there. I love the smell of vegetables coming out of the clay fridge. We are now planning to buy one more fridge for our home in the city and gradually eliminate the normal fridge. "
Meanwhile, Sivasamy points out that some of its customers are also doctors and the demand for this refrigerator has also increased in the last four years. He says, "As our health begins to deteriorate, more people are turning to old habits. We live a simple life from birth and are healthy. I'm glad people are learning the benefits of pottery and cooking. "I made this fridge to help people live sustainably."
"Unfortunately, today's youth do not want to do this job"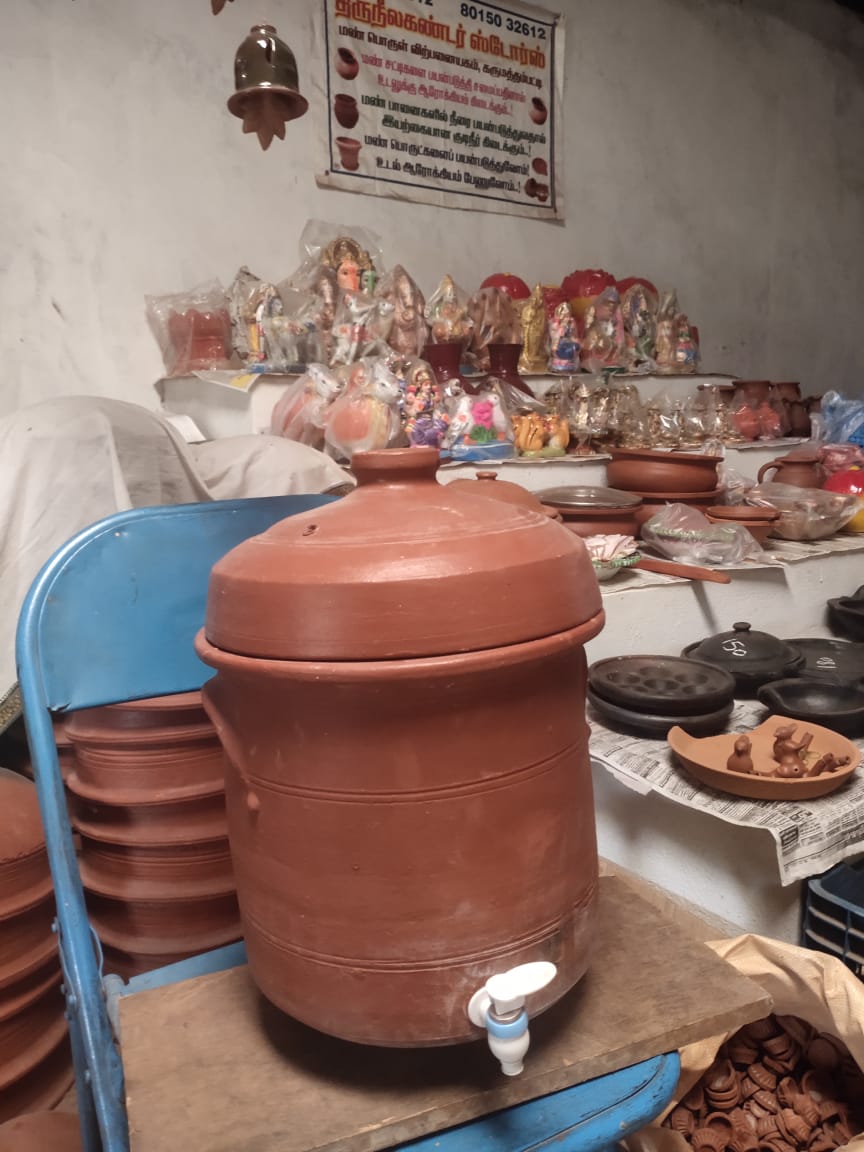 However, due to the shortage of potters, Sivasamy cannot make this refrigerator of clay and other products in large numbers. He says he used to have four people, but now there are only two left and both have grown quite large. At present, no young person wants to come to this field. As he laments, he says: "Young people think that people who make pottery get dirty because they get their hands dirty. That is why we must limit our production ".
Sivasamy says it has always tried to make products keeping in mind the needs of customers. He says, "If I say I will only make pots and diyas, then the loss is mine. I am also gaining by adapting to the needs of customers and creating products that benefit them. By playing a small role in improving health and calling l 'people's attention to an ecological life, I feel satisfied.'
Sivasamy hopes that more and more people will use pottery and move towards living life in a sustainable way.
Original article: Soumya Mani
Editing: Archana Dubey
Read also: From the clay bottle to the pressure cooker, adopt these utensils and live a healthy life