Ghaziabad: Wrinkle Sharma's book 'Premchand Manch Par' was launched at Media 360 Literary Foundation Katah Samwad's 'Katha Sanvad' event. Renowned writer, critic and journalist Priyadarshan, short story writer Katyani Singh, famous cartoonist Kak, literati Subhash Chander and Shivraj Singh inaugurated 'Premchand Manch Par'.
Wrinkle Sharma has theatrically adapted some of Premchand's stories into 'Premchand Manch Par'. Describing this book as a unique experiment with Premchand's stories, Priyadarshan said that though Premchand wrote very few plays, he
He knew the theater well.
On Media 360 Literary Foundation's contribution to literature, Priyadarshan said that in a machine city like Ghaziabad, 'Katha Samvad' works to fill the void of oral tradition of literature. He said that the civilization that had given birth to the stories around the campfire in ancient times, has been pushed away by science and development. Violence is spreading its feet around the world against humanitarian concerns. Our society also seems to be reverting to the old lending and borrowing civilization. In this situation, we have to repeat Premchand again.
Narrator Subhash Chander said that Wrinkle has adapted the story from the staging point of view to keep the soul of the stories alive so that any director can stage these stories easily. Manu Laxmi Mishra said that maintaining monotony in the story and theatrical adaptation is the achievement of this book.
text of new stories
In the 'Katha Samvad' program organized at Silver Line Prestige School in Nehru Nagar, literati gathered from different parts of the country recited the story. After the recitation of the story, the writers present gave their reactions to the story. The extent of improvement and enrichment of the stories was discussed.
Also read: 'Nomads' is not a book but a 70mm cinema: Alok Srivastava
"Katha Sanvad" started with the story "Atithi" by Siniwali. This story is a narrative of the discomfort and apprehension caused by the arrival of an elderly guest at the home of a lonely woman with two daughters at night. In response to the story, writer Kamlesh Bhatt Kamal said that a woman's skeptical mind reflects our sense of social security.
Famous writer Disha Nidhi read the story of the future of the changing world in technology "Shesh Vihar". In this the image of the future of the world has been drawn where there are neither trees nor plants nor animals and birds on earth. Due to man's greed, the ozone layer has been depleted and now the rays of the life-giving sun come to life. There is a world where there are no sensations. The man lives and works with the help of a chip.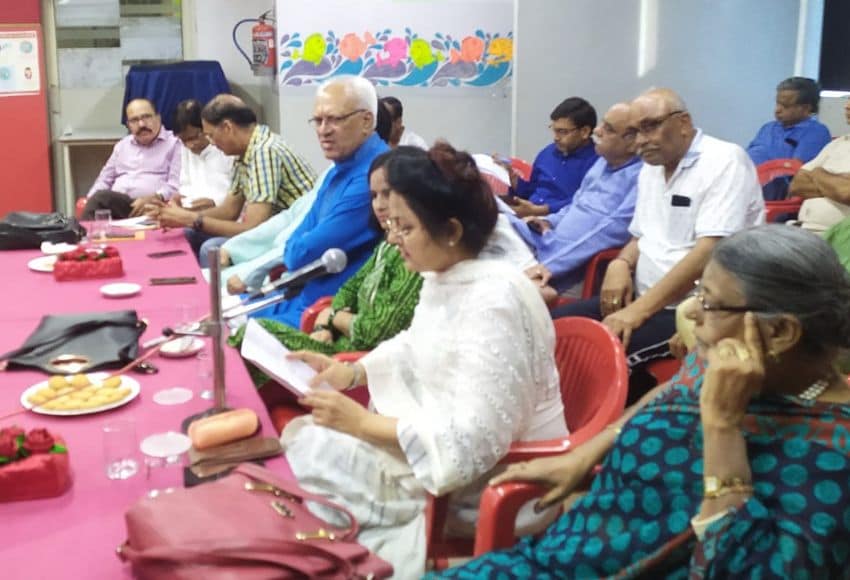 The innocent storyteller Nidhi reciting her story 'Shesh Vihar'.
Priyadarshan described the story "Shesh Vihar" as the best science fantasy. Kamlesh Bhatt said that this story raises concerns about the environment and ecology globally. Young writer Tekchand said that such stories should be included in the course.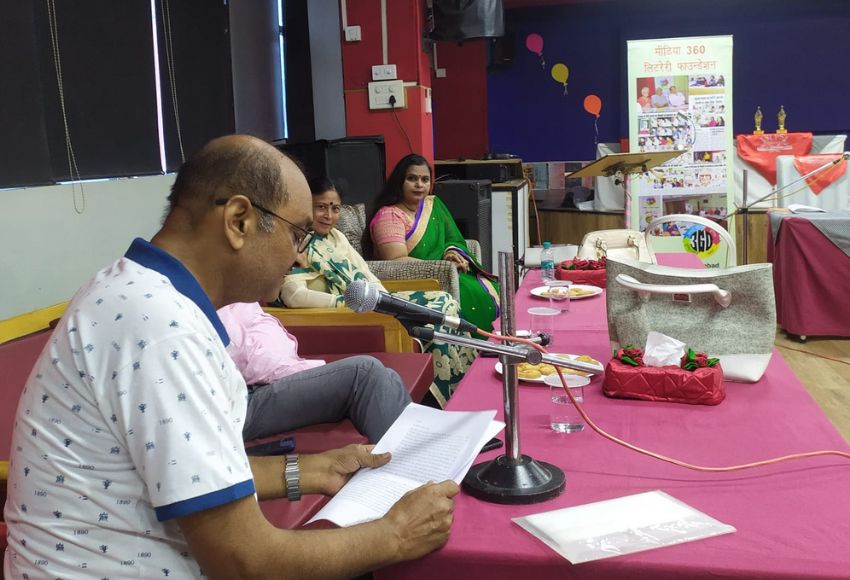 Shakeel Ahmed read his story "Madrasa".
Read the short story "Holocaust" by young writer Nidhi Agarwal. Shakeel Ahmed got a lot of applause in his story 'Madrasa'. Manu Laxmi Mishra, Dr. Bina Sharma and Alok Yatri presented the blueprints of their possible stories.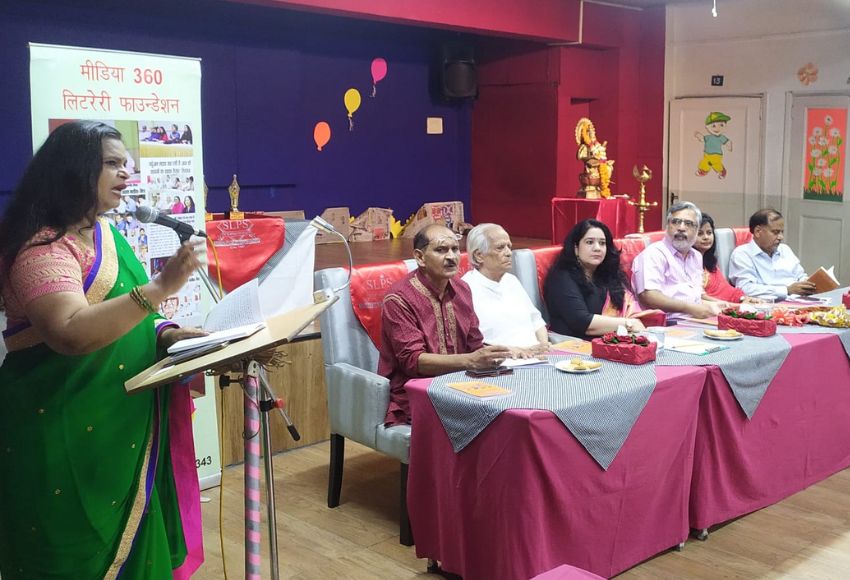 Manu Laxmi Mishra reciting the story on the program "Katha Dialogue"
Famous writer Katyayani Singh offered to donate a monthly prize in memory of her late husband to encourage Navlekhan. Under this award, 'Deepak Smriti Katha Samman' of 11 hundred rupees will be given to the best story read in 'Katha Sanvad' every month.
Katyani Singh recited her story "Papa, Forgive Me". Reacting to the story, Priyadarshan said that this story is taboo-free.
Also Read – Book Review: My Story Is "The Monk Who Sold His Ferrari"
Priyadarshan said most of the stories heard in 'Katha Samvad' are statements of global concern and plight. He said that all the stories heard today are very strong in terms of language, content and craft. He expressed his happiness that seniors come here and strive in the field of story writing in the second step of life.
As a director, Subhash Chander said that in today's stories, the craft is getting weaker. Most writers are in a rush to finish the story instead of going into the detail of the plot.
On this occasion, theater artists Ashrayvarnath Srivastava, Anil Sharma, writers Dr. Ajay Goyal, Ashok Mishra, Surendra Singhal, Dr. Ramesh Kumar Manjhi, Tejveer Singh, Soni Neelu Jha also expressed their views. A large audience like Rajesh Srivastava, Vagish Sharma, Tilak Raj Arora, Sushil Kumar Sharma, Kuldeep, Kamlesh Trivedi Farrukhabadi, Ravi Shankar Pandey, Dinesh Pawan Arora, Dr. Rajesh Kumar Bhaduri, Devendra Garg, Abhishek Singhal, BL Batra 'Amitra' were present.
Be the first to read breaking news in Hindi News18 Hindi | Today's Latest News Live News Updates Read Most Trusted Hindi News Website News18 Hindi |
Tags: Hindi Literature, Hindi writer, Literature
FIRST PUBLICATION: 25 Jul 2022, 15:15 IST