Mukul Roy has been one of the leaders close to Mamta
Mukul Roy, who has been active in West Bengal politics for more than two decades, is in news again. Last month he suddenly resigned as chairman of the Assembly's Public Accounts Committee. However, it was said that he had to resign due to opposition from the BJP. BJP called this appointment illegal. But according to the discussion, Mukul Roy is angry once again. After returning home last year, he is not getting what he used to get at TMC. Interestingly, he also left BJP for the same reason.
After the TMC's landslide victory in the West Bengal assembly elections, Mukul Roy had started isolating himself there. The charge of Shubhendu Adhikari, who defeated Mamta Banerjee, began to rise in the BJP. When Mukul Roy joined the BJP in 2017 after spending two decades in the TMC, he led it to great success in the 2019 Lok Sabha elections. The party won 18 Lok Sabha seats in the state and the merit goes to Mukul Roy. In 2020 he was appointed national vice president of the party. But after the defeat in the 2021 assembly elections, their petition was scaled back.
Incidentally, before joining the BJP, Mukul Roy was one of Mamta Banerjee's closest leaders. Both of them were together as they used to be part of the Youth Congress. When Mamata Banerjee formed TMC in 1998, Mukul Roy continued to give her full support from behind the scenes. He had the credit of bringing many people from Congress to TMC. When Mamata Banerjee took over in Bengal, she sent Mukul Roy to Delhi as the face of the party. In 2006 he became secretary general of the party. In the same year, he became a member of the Rajya Sabha. When TMC joined the UPA government, Mukul Roy continued to handle various government ministries. He also got the post of Ministry of Railways for a few days. He later came into controversy when after a train accident in Assam, he did not go to the accident site despite the advice of the then Prime Minister Manmohan Singh.
When TMC split from UPA in 2012, Mukul Roy also resigned. Then came 2015 and for the first time the dispute between Mamata Banerjee and Mukul Roy came to the fore. His name came up in the Saradha scam and the Narada sting, after which Mamata Banerjee suspended him from the party. Angry Mukul Roy got in touch with BJP. The BJP needed such an ally to strengthen its base in the state. In 2017, he formally joined BJP. A cricket and football fan, Mukul Roy is a science graduate from Calcutta University.
Temjen Alang dazzled with his good Hindi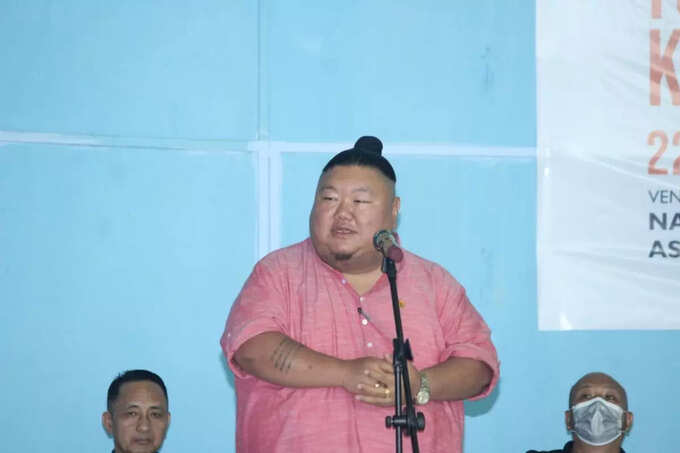 Nagaland BJP president Temjen Imna Alang is a social media sensation these days. His Hindi people are convinced by his timely response. Temjen, 41, won the 2018 Nagaland Assembly elections from Alongtaki Assembly constituency. He is the Minister of Higher and Technical Education, Government of Nagaland. He is also the Minister for Tribal Affairs. Many things spoken in Hindi have become so viral that people started fiercely searching about it on the internet. The search for his wife's name also began. Temjen Imna Alang herself tweeted about this that she is not married.
According to the affidavit he gave while contesting the 2018 elections, he was born in 1980 and belongs to the Ao Naga tribe of Nagaland. There are no criminal charges against Temgen. They have vehicles like Innova and Fortuner. In the affidavit, he described himself as an entrepreneur. According to the affidavit, Temgen's monthly income is Rs 5 lakh. Studied Commerce in Pre University (12th) in 1999 at City College of Art and Commerce, Dimapur. In January this year, Temjen was appointed the state president of Nagaland by the BJP.
A few days ago, a video of his went viral on social media in which he is seen explaining the benefits of small eyes. Temjen says that 'People say that people from the North East have small eyes. My eyes are small but I can see very well. Having small eyes is an advantage, dirt penetrates less. Sometimes you have to sit on stage for a long time, you can sleep somehow. Temgen's first video went viral and his good Hindi was much talked about. Temgen himself shared some of his previous videos.
In a video, he explains that in 1999, when I first arrived in Delhi and landed at the Old Delhi railway station, I saw more population there than our own state of Nagaland. We were surprised there. Those people used to ask where is Nagaland, do you need a visa to go there? Some people spread that naga people eat man and seeing us started to get more suspicious. Temjen says that earlier people in Delhi-Mumbai did not know where the Northeast was. But now where is North East, where is Nagaland, where is Manipur, where is Mizoram, where is Arunachal, where is Assam, where is Sikkim.