Will there be any such case in India where 'horse trading' is done to buy MPs from a ruling party and the ruling party makes no effort to save its MPs? In Jharkhand, there has been an effort to hide the UPA since years. Similar was earlier seen in Maharashtra, Karnataka, Madhya Pradesh and even Rajasthan.
But in Delhi, neither the MLAs were in hiding, nor were they taken to resorts or hotels, nor was there any movement in politics. There was no concern even in the ruling Aam Aadmi Party.
Have you ever seen that party which has 62 out of 70 MPs, from this party it is said that efforts are being made to overthrow our government? Have you ever heard that no MLA has any proof of purchase and no bag full of notes has been sent to any MLA. Even if no such bag has been found in the vicinity, which is to be handed over to these MLAs, even if it is said that efforts are being made to buy our MLAs, questions will definitely arise. Despite all this, operation Lotus is said to be running to buy MLAs from AAP.
You may not have even seen the same claim being made every day without evidence. All party leaders should be seen singing this allegation as a national anthem with one voice and behave in such a way that whatever they say, they speak the truth and nothing but the truth. Also contact CBI as we have no proof but we are investigating our complaint.
The question is, why Aam Aadmi Party suddenly felt that Operation Lotus is being executed in Delhi when political analysts believe that there is no such reach in Delhi. The opposition BJP has many problems these days but only on the liquor policy, none of the questions that have been raised have been properly answered by the Aam Aadmi Party government. After all, in the name of Kovid-19, how was the exemption of over Rs 144 crore given to the license holders? Why was the Rs 30 crore security deposit returned to the Delhi airport contractor? How was the import exemption of Rs 50 per case given to beer? How were licenses issued even to blacklisted contractors? How were liquor manufacturers issued licenses to sell liquor at retail? How did the liquor contractors commission go from 2% to 12%?
How did 639 shops at that time increase to 849 contracts under the old liquor policy in Delhi? After all, how was permission given to open liquor stores in non-conforming areas when the master plan does not approve it?

How did the sale of liquor increase in Delhi but government revenue decreased? After all, how did the number of dry days drop from 21 to 3?
In fact, when there is no answer to the questions, there should be a problem so important to the answer that it diverts all attention. Kejriwal and the party felt that there could be no bigger problem than Operation Lotus. So, after the liquor policy implementation scam, the CBI raid should be linked to the Lotus operation. But his script was not written properly. The truth is that the script was never written and the scenario changed every day. That is why on the first day it was said that an attempt has been made to buy Manish Sisodia and he has been offered the post of CM. No one understood this. Manish Sisodia is already handling the CM job in Delhi. Being the Deputy CM, he holds all 18 major departments.
Kejriwal is the non-playing captain and after Satyendra Jain's jail, only Sisodia runs. Now, how can BJP offer a person who is already so powerful, bring him to the grid and how will anyone accept him.

When this issue did not work, it was again said that an attempt has been made to buy four MLAs from the Aam Aadmi Party. These four deputies also appeared at the press conference. When asked at the press conference who tried it and what the evidence is, everyone started looking. Later, there was talk of an offer of Rs 20 crore each, but no one understood that what would BJP do by buying four MLAs?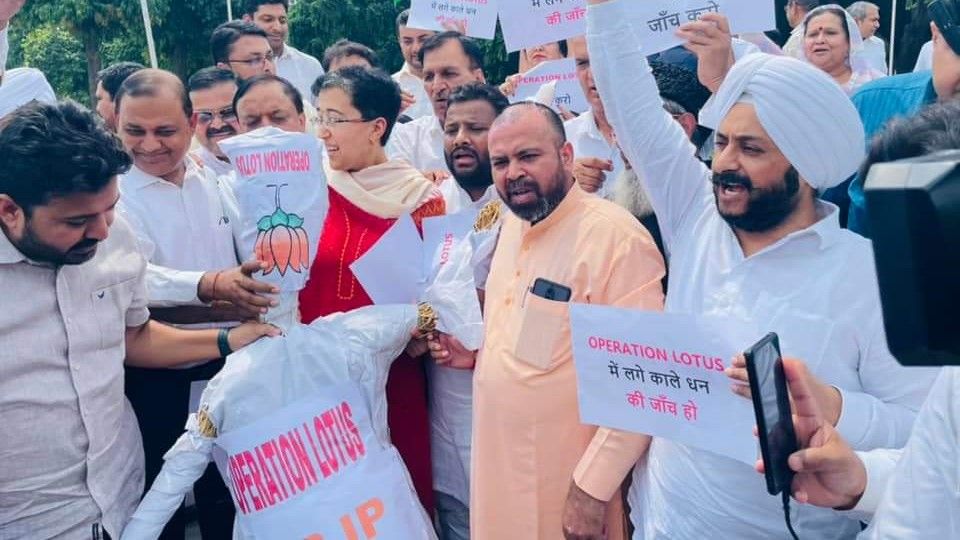 Had it been the atmosphere of 2013, one would have assumed that the BJP could have formed the government with four MLAs, when the BJP had 32 MLAs, and the Aam Aadmi Party with 28 and then with four MLAs, the BJP could have come . the majority figure of 36. Then all the BJP's efforts went in vain and the Aam Aadmi Party formed the government with the support of eight Congress MLAs.
In the current situation, even if four MLAs come to the BJP, the total number will be 8 plus 4, that is, only a dozen MLAs and there will be no threat to the strong Aam Aadmi Party government. Why would BJP run such a stupid Lotus operation? When AAP also came to know about this calculation, it said that 4.40 MLAs were not being bought.
In order to corner the BJP on this allegation, only a one-day special session of the Legislative Assembly was convened on August 26 in Delhi.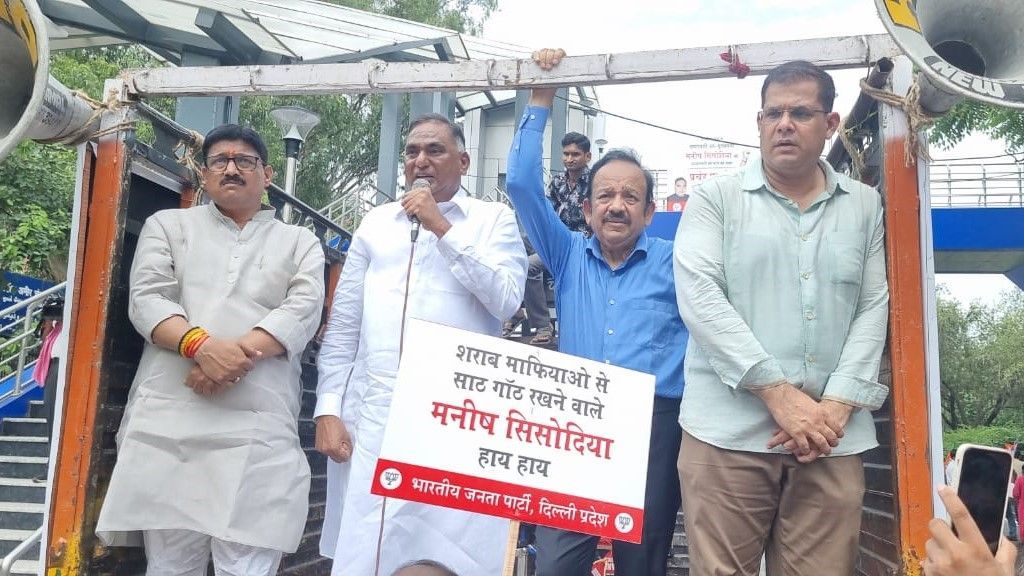 While publishing the agenda, it was said that this session has been called to praise the achievements of the Aam Aadmi Party in education and health, but there was no discussion. Kejriwal's speech took place and in his speech he surrounded the BJP on the Lotus operation and said that we will get the vote of confidence. We want to show that none of our MLAs have broken and also challenged us to show even one MLA breaking it. So the session was convened for one day and on August 29 as well.
Kejriwal moved the vote of confidence but suddenly Durgesh Pathak in his speech asked Lt. Governor VK Saxena was accused of 1400 crore scam. Now everyone has forgotten about Operation Lotus and also about the vote of confidence. Does it ever happen that a vote of confidence is introduced and it hangs for four days? Don't talk about it. Does it ever happen that even after removing the opposition, the proceedings of any house could not continue, but this was continuously happening in Delhi?
Here, the opposition would demand a discussion on the liquor scam and the education scam and on the other hand, Rakhi Birla, sitting on the speaker's podium, would say that the entire opposition has prevailed . Even after that, the house is not functioning because people from the ruling party kept coming to the Well because of the CBI suit against the Lt. Governor and then the house kept getting adjourned. Here too an attempt was made to put behind the liquor scam issues, otherwise neither the Delhi government had to order a CBI inquiry nor Rakhi Birla, but AAP members kept demanding the same.
To fulfill this script, the Aam Aadmi Party attacked the CBI for investigating Operation Lotus. A pot is cooked thinking that 20-20 crores ie a total of 800 crores has been kept to buy 40 Aam Aadmi Party MLAs in Delhi.

BJP has so far bought 277 MLAs across the country so where did BJP get so much money according to the cost of crores of MLAs. Kejriwal has brought a far-fetched thing that MLAs are being bought with the same money GST has been imposed on curd, butter milk, paneer ie GST is not given to the government but to the BJP . By raising GST, Modi ji waives loans from his 'friends'.
Looking at this whole situation, one does not understand who should be considered confused: the public is getting confused, the Aam Aadmi Party itself is confused or it is trying to avoid all questions by confusing the BJP. The truth is that the Aam Aadmi Party has definitely wrapped itself in the circle of questions and is not able to answer them.